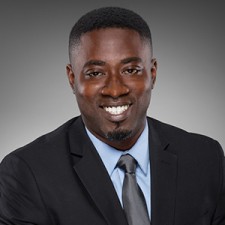 Orthopedic spine surgeon, Henaku K. Yirenkyi, MD, joins OrthoAtlanta Orthopedic and Sports Medicine Specialists. Serving patients in the Stockbridge and McDonough area south of Atlanta, Georgia, Dr. Yirenkyi's expertise includes surgical and non-surgical spinal care for degenerative and traumatic spine injury and disease. Experience in both anterior and posterior spinal approaches provide multiple treatment options for conditions including spinal stenosis, sciatica, scoliosis and more.
Atlanta, GA, September 22, 2016 (Newswire.com) - ​​OrthoAtlanta is pleased to welcome Henaku K. Yirenkyi, MD, to its orthopaedic and sports medicine practice, providing spine care and treatment to patients in the greater Stockbridge, Georgia area. Dr. Yirenkyi is a board-eligible orthopedic surgeon whose specialties include minimally invasive spine surgery, operative and non-operative spine care for adults and traumatic spinal injury. Among the many conditions treated by Dr. Yirenkyi are sciatica, scoliosis, herniated discs, lumbar spinal stenosis and back pain. Dr. Yirenkyi also treats pediatric conditions, including scoliosis, for children age 14 years and older.
Dr. Yirenkyi believes in conservative care. As cited by Dr. Yirenkyi, "Care begins with knowing your patient personally. Together we will optimize non-operative spine care and treatment and only intervene surgically when necessary."
"Care begins with knowing your patient personally. Together we will optimize non-operative spine care and treatment and only intervene surgically when necessary."

Henaku K. Yirenkyi, MD, OrthoAtlanta
"We are pleased to welcome Dr. Yirenkyi to our OrthoAtlanta Stockbridge practice," stated Dr. Michael Behr, OrthoAtlanta Medical Director. "Dr. Yirenkyi is fellowship-trained in cervical, thoracic and lumbar pathology, and both anterior and posterior spinal approaches, offering multiple treatment options for spinal care."
Dr. Henaku Yirenkyi received his Doctor of Medicine degree from the University of Cincinnati, College of Medicine, in Cincinnati, Ohio, followed by an Orthopaedics internship and Orthopaedic Surgery Residency at Orlando Regional Medical Centre in Orlando, Florida. Dr. Yirenkyi completed his Spine Surgery Fellowship at SUNY Upstate Medical University, in Syracuse, New York. Dr. Yirenkyi is a member of the American Academy of Orthopaedic Surgeons, American Medical Association, and the North American Spine Society.
Appointments may be requested with Dr. Henaku Yirenkyi at OrthoAtlanta Stockbridge, 770-506-4350.
About OrthoAtlanta
OrthoAtlanta is one of the largest orthopaedic and sports medicine practices in the greater Atlanta, Georgia area. With 37 physicians serving in 12 offices, the physician-owned practice is dedicated to providing the highest level of patient care for injury or deformity of muscles, joints, bones and spine. OrthoAtlanta offers convenient accessibility to a full range of musculoskeletal surgeons, specialists and patient services including on-site physical therapy, pain management care, five MRI imaging centers and workers' compensation coordination. OrthoAtlanta Surgery Centers in Austell and Fayetteville provide cost-effective surgical procedures in an accredited outpatient center. Comprehensive operative and non-operative musculoskeletal care and expertise includes sport medicine, arthroscopic surgery, hip replacement, knee replacement, neck and spine surgery, elbow and shoulder surgery, foot and ankle surgery, non-operative physical medicine and rehabilitation services, pain management, arthritis treatment, general orthopaedics, work related injuries and acute orthopaedic urgent care.
Learn more at http://www.OrthoAtlanta.com.
Source: OrthoAtlanta
Share: