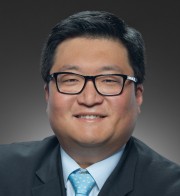 Kevin Park, M.D., OrthoAtlanta spine surgeon, will provide a community education program on degenerative scoliosis and an innovative minimally invasive treatment with less pain and faster recovery times, to residents south of I-20 including Newnan, Fayetteville and Stockbridge, Georgia, on January 21, 6 p.m. at Somerby in Peachtree City. Open to the public; RSVP requested.
Atlanta, GA, January 13, 2016 (Newswire.com) - ​Join Kevin U. Park, M.D., OrthoAtlanta orthopaedic spine surgeon, as he discusses degenerative scoliosis and a new minimally invasive technique that can provide much less pain and much faster recovery time for the patient. This community education program, open to the general public, is being held on Thursday, January 21, 6:00 p.m., at Somerby of Peachtree City, 200 Rockaway Road, Peachtree City, GA. Light refreshments will be served.
Dr. Park is one of the only spine surgeons in our area performing minimally invasive spine surgery. A Fellowship-trained spine surgeon, Dr. Park specializes in adult degenerative cervical, thoracic and lumbar spinal conditions, traumatic spinal injuries, motion preservation technology, also known as total disc arthroplasty, and minimally invasive spinal surgery. Degenerative scoliosis is a condition that develops with age when degeneration of the disc and facet joints lead to a curvature of the spine.
This seminar is free and open to the public. Feel free to bring a friend or family member to this informative event. Please RSVP via email or call by Monday, January 18 to Carrie Parsons, cparsons@orthoatlanta.com, or call the OrthoAtlanta Newnan office at 770-460-4747.
About OrthoAtlanta
​OrthoAtlanta, orthoatlanta.com, is one of the largest orthopaedic and sports medicine practices in the greater Atlanta, Georgia area with 13 offices including locations in Newnan, Fayetteville and Stockbridge served by Dr. Park. OrthoAtlanta offers convenient accessibility to a full range of musculoskeletal surgeons, specialists and patient services including on-site physical therapy, four imaging centers and two AAAHC surgical centers. Comprehensive operative and non-operative musculoskeletal care and expertise includes sport medicine, arthroscopic surgery, hip replacement, knee replacement, neck and spine surgery, elbow and shoulder surgery, ankle and foot surgery, pain management, general orthopedics, work related injuries and acute orthopedic urgent care.
Share: